Dentist Avondale, AZ
Adjacent to Phoenix, Arizona, Avondale is a vibrant city and a premier destination for NASCAR racing, education, arts, wildlife watching,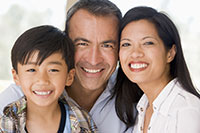 festivals, shopping, dining recreation and family living. As a dentist in Avondale, AZ, Dr. Thihan Phan plays an active roll in the community.

Dr. Phan of Palo Verde Dentistry is an Avondale, AZ dentist serving Litchfield Park, Goodyear, Buckeye, Surprise, El Mirage and Phoenix West Valley areas. At Palo Verde Dentistry, we strive to offer you the best in available dental care, including the following services:

General dentistry

Family dentistry

Cosmetic dentistry

Emergency dental care

Dental implants

Invisalign

At Palo Verde Dentistry, we believe that informed patients are better prepared to make decisions regarding their health and well being, which is why we continue to offer a wealth of educational materials both online and in our office.

You can also "Like" us on Facebook for monthly drawings and games for fun prizes! In order to claim prizes, you must be a patient of Palo Verde Dentistry, Avondale dentist, so schedule your appointment today!

If you could change anything about your smile, what would it be?