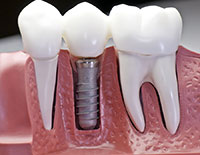 Failing to replace your missing teeth can have detrimental effects on your long term oral and overall health. One of the biggest reasons an individual should replace their teeth is because of bone deterioration that begins as soon as the teeth are lost. With time, the bone will dissolve more and more, making it extremely difficult to eat and speak, causing neighboring teeth to shift, while also limiting your possibility for restorations. Additionally, gaps in your teeth can affect the surrounding teeth, causing them to shift and influencing how the jaw closes. And since food can easily become trapped in these spaces, the risk of tooth decay and gum disease is significantly increased.
Dr. Thihan Phan Explains the Benefits of Dental Implants in Avondale
Dental implants
are long-lasting tooth root replacements that are securely placed into the jawbone to simulate the root of a single pre-existing tooth or multiple teeth. They are natural-looking and provide the same function as your natural tooth root while preventing further decay, dental disease and bone deterioration. Unlike traditional dentures, dental implants offer a permanent solution for missing teeth; and with implants, there is no fear of slipping or falling out, no messy adhesives, no discomfort and no difficulty eating or talking.
Other benefits of implants include:
Look and feel like natural teeth
Restore proper chewing and speaking functions
Convenience and confidence that teeth won't move or loosen
Because implants are fixed in place, there is no messy adhesive or slipping as with dentures
Prevent progressive bone loss and gum recession by mimicking the roots of natural teeth
Convenient oral hygiene
Implants are very durable and with good care, can last a lifetime
Renewed self-confidence and improved self-esteem
If you're embarrassed to smile, frustrated with eating or tired of inconvenient dentures, consider dental implants in Avondale from Palo Verde Dentistry—the natural-looking, comfortable and long-term solution to missing teeth. This solution offers stability, durability and convenience that other procedures can't provide, while dramatically improving the appearance of your teeth so that you can smile with confidence once again.