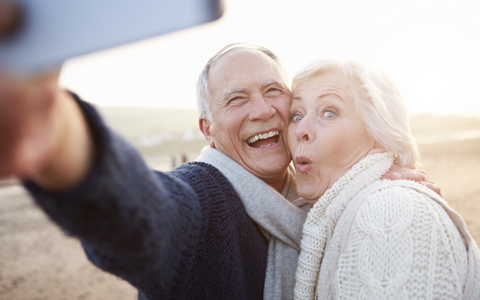 Having a healthy, confident, and beautiful smile is essential for patients who have suffered from tooth loss. Smilecologyy provides personalized denture services that meets the needs of all of our one-of-a-kind denture patients.
Traditional Dentures
Traditional dentures are realistic and removable replacement teeth. There are two types of traditional dentures: full and partial dentures.
Full dentures are given to patients when most or all of the natural teeth are missing or severely damaged. Conventional full dentures can be placed once the gum tissue has healed, while immediate dentures are placed right after tooth removal. These dentures have a pink plastic base that form a seal with the gums to stay in place.
Partial dentures are attached to a metal frame that connects to the natural teeth. These dentures fill in the spaces where permanent teeth are missing or damaged.
Implant Dentures
Implant-supported dentures are fixed to the gums with tiny titanium rods. For patients with loose or uncomfortable dentures, dental implants may be the ideal way to stabilize your new smile.
The benefits of implant-supported dentures include:
Patients who opt for implant-supported dentures feel more confident when talking, speaking, and eating. Their teeth will never slide out of place or fall out of their mouths.
Implant-supported dentures look and feel like natural teeth. There is also less irritation of the gum tissue.
With implant-supported dentures, there is no need to use denture adhesives.
All-on-4
All-on-4 dental implants are a permanent solution for restoring your oral health and your confidence in your smile. Dr. Phan and her team can replace a full arch of teeth with just one appointment and 4 small dental implants.
All-on-4 allows patients to walk out of our office and face the world with a brand new set of permanent and beautiful teeth.
Are Dentures the Right Choice for Me?
If you're interested in learning more about dentures and whether or not they are the best choice for you, please schedule an appointment at Smilecology today! Our team would be pleased to answer any of your questions and evaluate your oral health.