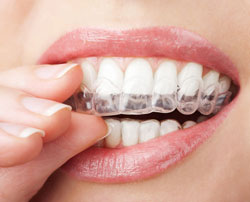 Are you getting married? Do you have a big event coming up this summer? No matter the reason or event, you can now easily straighten your teeth without anyone even noticing! Traditional wire and bracket braces no longer need to be your only alternative to straight teeth and a restored smile. Invisalign is invisible, removable, and comfortable, but the best part is that no one will be able to tell that you are even undergoing treatment. For patients in Avondale,
Invisalign
is great for both adults and teenagers who want to straighten their smile.
Invisalign enhances self-esteem and physical confidence through an esthetic and barely visible alternative to wire braces. Studies show that straight teeth are healthier teeth with less inflammation leading to periodontal disease and decreased chance of tooth wear and fracture. The clear aligners are manufactured using advanced computer technology that predicts tooth movement, making it possible for the removable orthodontic appliance to gradually straighten teeth.
Invisalign in Avondale: What You Should Know
Introduced in 1999 by Align Technologies, Invisalign is a removable orthodontic appliance that incorporates a series of clear, plastic aligners that fit comfortably over your teeth. The aligners are designed to move your teeth gradually into the desired orthodontic position. Invisalign is a leading brand of orthodontic appliances. The removable aligners are designed to be more esthetically pleasing than conventional braces for treating certain types of minor orthodontic problems including:
Overly crowded teeth
Widely spaced teeth
Overbite/overjet
Crossbite
Mild relapse
Simple bite irregularities
Invisalign requires only one set of impressions and photographs of your teeth, which are taken during your initial consultation. The impressions are used to create a three-dimensional computer projection of how your teeth could be moved in increments, forming the basis for developing a series of custom-made aligners, which are designed to accomplish these movements.
If you're ready to take the next step to getting a straighter smile, speak with our Avondale general dentist and find out if you are a good candidate for Invisalign. Not all cases of misaligned and crooked teeth can be treated with Invisalign. It is up to our Avondale, AZ dentist to determine the best process for straightening your teeth. With Invisalign in Avondale, you will see results faster and less painfully than with traditional braces, and no one will even notice you are receiving treatment.